Www.LegalOnRamp.com has picked their third law firm -- Goulston & Storrs of Boston -- to provide its 14,000 in-house counsel members with articles and FAQs on attorney-client privilege and work product protection.
This is a coup for the 200-lawyer firm, because of the 400+ law firms participating in Legal OnRamp, the only other law firms that were chosen to provide content are megafirms -- Allen & Overy with 5,000 staff, including over 450 partners in 31 cities worldwide, and Latham & Watkins, which has 2,000 attorneys in 27 offices.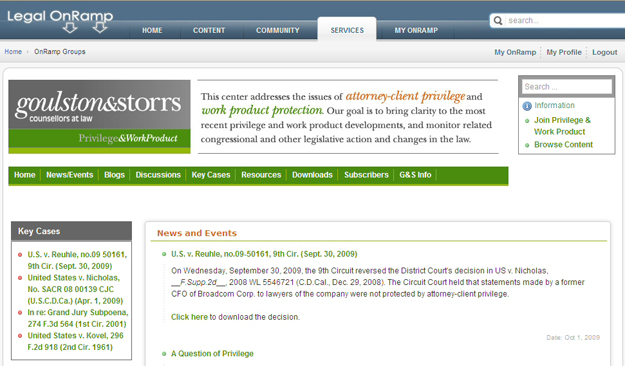 Goulston & Storrs attorneys will provide attorney-client privilege and work product protection information in the form of blogs, discussion forums, collaboration, and pertinent news and related key cases.
Started by general counsel, Legal OnRamp is a leading online social network for law, helping legal departments reduce costs and improve quality through collaboration.
CEO of Legal OnRamp, Paul Lippe, said, "Goulston & Storrs combines expertise together with a commitment to innovation that led it to focus on the inter-connected OnRamp platform as a way to engage in-house lawyers. Ethics issues are an ongoing area of interest for in-house lawyers, and PrivilegeRamp will be their first 'port of call' for information in this key area."

Bruce MacEwen, a well-known legal blogger, added 'We've long predicted that initiatives like Legal OnRamp and now Goulston's ethics-focused offering would have to be part of the practice of law sooner or later.  But with this announcement and others like it, it's increasingly clear that future expectation is turning into present reality."

Goulston's co-managing director, Marty Fantozzi, commented, "We are thrilled that Legal OnRamp invited us to participate in the FirmRamp program from its inception.  This opportunity recognizes the thought leadership our attorneys bring to in-house counsel. We look forward to providing valuable information through this medium and continuing to find ways to deliver superior value to clients."
--
Fuente:
Difundan libremente  este artículo
CONSULTEN, OPINEN , ESCRIBAN .
Saludos
Rodrigo González Fernández
Diplomado en "Responsabilidad Social Empresarial" de la ONU
Diplomado en "Gestión del Conocimiento" de la ONU
www.consultajuridica.blogspot.com
www.el-observatorio-politico.blogspot.com
www.lobbyingchile.blogspot.com
www.calentamientoglobalchile.blogspot.com
www.respsoem.blogspot.com
Oficina: Renato Sánchez 3586 of. 10
Teléfono: OF .02- 2451113 y  8854223- CEL: 76850061
e-mail:
rogofe47@mi.cl
Santiago- Chile
Soliciten nuestros cursos de capacitación  y consultoría en LIDERAZGO -  GESTION DEL CONOCIMIENTO - RESPONSABILIDAD SOCIAL EMPRESARIAL – LOBBY – ENERGIAS RENOVABLES   ,  asesorías a nivel nacional e  internacional y están disponibles  para OTEC Y OTIC en Chile