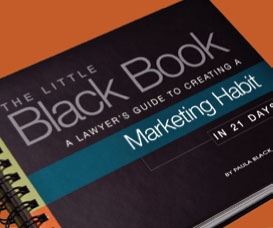 For the next 48 hours Paula Black will be offering an impressive opportunity to anyone who purchases "The Little Black Book: A Lawyer's Guide To Creating A Marketing Habit in 21 Days." Readers who purchase the book will receive "The Smart Lawyer's Toolkit," a compilation of advice from more than 30 of the most sought-after experts in the legal arena (including myself!). Click here for details.
Fuente:
Larry Bodine
Difundan libremente este artículo
CONSULTEN, OPINEN , ESCRIBAN .
Saludos
Rodrigo González Fernández
Diplomado en "Responsabilidad Social Empresarial" de la ONU
Diplomado en "Gestión del Conocimiento" de la ONU